about flanagan and sun Inc.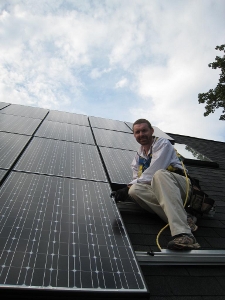 Honesty, integrity, and a deep concern for the environment are the cornerstones of Flanagan and Sun. To that end, we will not sell you a system unless it is viable for you.
The owner of Flanagan and Sun, Sean Flanagan, is a certified photovoltaic technician. In fact, Sean is the first person in Canada to graduate from the Photovoltaic Technician Training Program offered jointly through Seneca College and the Canadian Solar Industries Association (CanSIA). In May of 2011, Sean Flanagan's hard work and integrity earned him the 2011 County of Peterborough Recognition Award in the Environmental Recognition category.Flanagan and Sun is a renewable energy company serving Peterborough and the Kawartha Lakes region.
We are located 1.2 kilometres north of Buckhorn on Peterborough County Road 36. Since 2004, Flanagan and Sun has provided professional consultation into renewable energy options. Our services include everything from the custom design of a system that will work for you, to the sales and installation of photovoltaic, solar thermal, wind energy and micro-hydro systems. Our professional portfolio includes successful installations in both off-grid and grid-tied situations. And for the do-it-yourselfer, we can provide you with all of the necessary solar electric, solar thermal, wind, small-scale hydro, and energy efficient appliances.
In September of 2009, the Government of Ontario officially launched a Feed-In-Tariff program as part of legislation passed under The Green Energy Act. This program mandates that electrical utilities allow individuals and businesses to sell renewable energy back to Ontario's power grid, provided there is capacity on the lines to accept the energy.
Please call or e-mail to arrange for an appointment or to inquire about our products and services. We look forward to doing business with you.aid energy. Qualifying renewable energy projects are eligible to enter into a contract with the Ontario Power Authority (OPA) whereby the energy produced will be purchased by the OPA for 20 years at a rate that allows for a reasonable return on investment. The microFIT and FIT programs have been very popular, and the renewable energy sector has seen an onslaught of many new company's offering their services to design and install microFIT and FIT systems. While Flanagan and Sun applauds the jobs created by the microFIT and FIT boom, our many years in business have earned us a reputation as a knowledgable business offering superior quality services and products when it comes to renewable energy systems.